You're online all day.

Why not use the browser to remind you of things?
Never forget again. Simple, custom, reminders right in your browser. One time or recurring? You set the timing, Best Reminder App helps you never forget 🪄.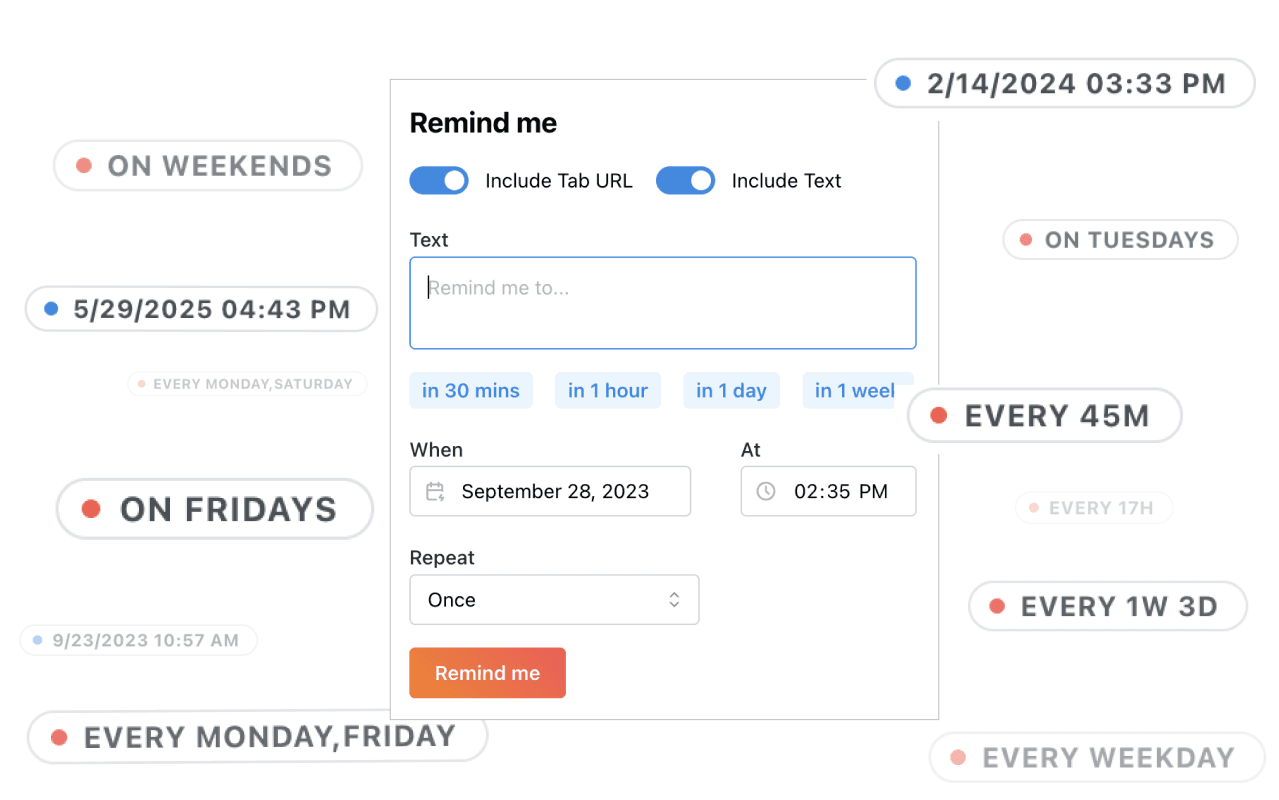 Boost Productivity with Premium Features
Upgrade to the premium version to unlock enhanced flexibility for all your alerts and tasks. Schedule reminders for future dates and times, set custom intervals, and create schedules for specific days of the week, enhancing your productivity and incorporating life hacks into your daily routine.
🔮 Create reminders more than 7 days in advance

- Set your reminders for any date in the future.

🔄 Repeating Reminders

- Forget the hassle of setting multiple alarms. Customize your alerts to recur at intervals spanning minutes to weeks or specific days. It's the simple solution to managing recurring tasks, meetings, and habits!

🏗️ Custom Schedules for Time Intervals

- Set your reminders for specific dates and times or choose recurring intervals in minutes, hours, days, or weeks.

🗓️ Flexible Day Scheduling

- Get reminded on specific days of the week—weekends, weekdays, individual days like Mondays or Thursdays, or select multiple days like Mondays, Wednesdays, and Fridays.

⏰ Rich Notifications

- Include the tab URL by default, or personalize your reminder with custom text.

🔒 Privacy and Offline Functionality

- All your reminders function offline, meaning your data is stored locally and never leaves your browser. Not only does this safeguard your privacy, but it ensures uninterrupted service even without an internet connection.

This is standard for both the free and Premium versions.
This price excludes any applicable tax. Cancel anytime.